A WORD FROM PASTOR TOM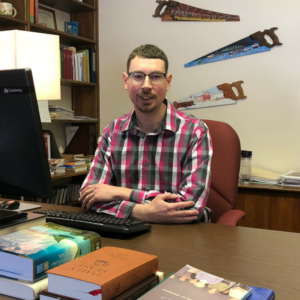 During the Sundays of October we will be focusing on stewardship. Stewardship is about how we manage what God has first given to us. Our theme this year for our stewardship season is "portion giving."
What does it mean for us to give a portion of our money, time, and talents back to God in the form of an offering? Let's explore that question together during the four Sundays of October.
"Remember this – a farmer who plants only a few seeds will get a small crop. But the one who plants generously will get a generous crop. You must each decide in your heart how much to give. And don't give reluctantly or in response to pressure. For God loves a person who gives cheerfully. And God will generously provide all you need. Then you will always have everything you need and plenty left over to share with others. As the Scriptures say, they share freely and give generously to the poor. Their good deeds will be remembered forever. For God is the one who provides seed for the farmer and then bread to eat. In the same way, God will provide and increase your resources and then produce a great harvest of generosity in you." 2 Corinthians 9: 6-10
May God bless you as you steward the gifts of God for the people of God.
TIME & TALENT
This year we are asking you to fill out the time and talent survey online. Please visit http://wblc.org/time-talent to complete the survey.
If you prefer to fill out a paper version, you can pick up a copy on the Narthex table. Simply fill it out and place in the offering plate or drop off at the church office.
MUSIC NOTES from Carol Berndt
Here are some dates to take "note" of for the upcoming couple of months. October 7th our Sunday School children will be leading the congregation in the singing of "Jesus Loves Me". On Oct. 14th the Sunday School children will be presenting the congregation with a special treat & song having to do with the stewardship theme of the month. Our Handbell Choir will be preparing for their concert at Christ Lutheran in Sharon on Oct. 21st at 3:00 PM (see separate article). On Tuesday, November 20th at 6:00 p.m., Chapel on the Hill will be joining us along with Williams Bay U.C.C. for our traditional Thanksgiving "Eve" service where there will be a combined vocal choir. Rehearsal time will most likely be at 5:00 pm. That evening at U.C.C., which is where the service will be held this year. We will once again present a Christmas cantata this year, which will be on Sunday, December 9th during our 9:30 AM unity worship service (no 8:00 am service on that morning). It will involve a Christmas Choir, Handbell Choir, Sunday School children, Confirmation students and Congregation participation. This year's presentation is "Emmanuel—God With Us!" by Lloyd Larson, featuring songs such as Michael W. Smith's "Christmastime", Amy Grant's "Breath of Heaven" & their combined song, "No Eye Had Seen" along with another favorite of many, "Mary, Did You Know" & finishing with a traditional Christmas Carol medley. If you are interested in joining us in this cantata, please contact me for a rehearsal schedule & music. I have made practice recordings that I can email to you for easy practice.
HANDBELL CONCERT
Our Williams Bay Lutheran Handbell Choir will be presenting a Handbell Concert at Christ Lutheran Church in Sharon on Sunday, October 21, 2018 at 3:00 PM. Pastor Kalen Barkholtz, Pastor Tom's wife, and her congregation are looking forward to our musical presentation and are anxiously awaiting meeting members of our Williams Bay congregation. Refreshments will be provided after the concert to provide time for fellowship and a time to get to know everyone a little better.
We will be taking a free will offering at the concert that we will be donating to the Agape House in Walworth. I encourage you to visit their website for further details of their loving ministry. Agape House is a non-profit ministry which provides counseling services, mentoring, school and a safe home for girls and their families throughout Walworth County and the surrounding area.
It is our hope that this is just the first of many handbell concerts to come that we will be able to share our talents and abilities with others outside the four walls of Williams Bay Lutheran Church. We hope to see you there & thank you in advance for your support of our music ministry & mission to help the Agape House this year with our donation.
SALLY'S CIRCLE BOOK CLUB
All WBLC women are welcome to join our Sally's Circle meetings. Some of the participants knit or crochet prayer shawls or do other hand work while we talk. Our meetings are very informal and are a great way to get to know each other. We meet in the Hearth room in the lower level of the church. If you have any questions about where to get the book, please see Mary Mock or Cheral Sadler. Our next meeting is October 30, 2018. The book is "Home Front" by Kristin Hannah.
CROP WALK
The 32nd Annual Crop Walk will take place on October 21, registration is at 12:30 pm, walk at 1 pm.
75% of donations go to world hunger relief through Church World Service, 25% stays local and is split between 7 food pantries in Walworth County.
If you are interested in participating, please contact Jim Pfeil for a walk packet.
NEW MEMBER SUNDAY
Pastor Tom would like to formally invite our new members to Williams Bay Lutheran. If you are interested in joining the church please let him know. He is planning a "New Member Sunday" for the fall.
LUTHERAN CAMPUS MINISTRIES
Our church supports many important ministries. One ministry that we support is Lutheran Campus Ministry. LCM reaches out to college students with the message of the Gospel of Jesus Christ. LCM offers a Christian Community on college campuses for students seeking to grow in their relationship with God.
SUNDAY SCHOOL & CONFIRMATION
Sunday school is at 9:40 am each Sunday morning during the 9:30 worship service. Confirmation is every Wednesday evening from 6:00-7:00. Please keep these ministries in prayer. Pray that God might bless and grow these important ministries in our congregation.
MUTUAL MINISTRY
Pastor Tom is working on starting a mutual ministry committee. The purpose of this group is to offer support, to reflect upon the mission of Williams Bay Lutheran Church, to pray for our church, and to plan for future ministry. Please keep this committee in prayer as it begins meeting this fall.
ENRICHING WORSHIP VISUALLY
An update from Ron Berndt, Church Council, Worship Committee Member: You probably know that I spend a lot of time in church as cantor, lector and choir member. I am always thinking about how we might enhance our worship experience and appropriately leverage technological and content resources available widely today. You may not know that I have spent many years of my professional life successfully enabling thousands of individuals and multiple businesses to present their messages in a more compelling and memorable way, with learning styles in mind. So, how does my experience apply to our church and our worship? I have been the proponent of exploring ways to add a visual element to our worship. I'd like to summarize our research, our findings, and how we'd like to move forward with this initiative…
Why add visual elements? (the research) Do you know that, according to the Social Science Research Network, nearly 65 percent of people are visual learners? People who learn visually need to see what they hear not only to comprehend, but also to retain information. When listening to a sermon, visual learners benefit from pictures, slides and live demonstrations. The visual aspects help people connect with what is being spoken or sung and reinforce the service in a positive way.
Our experimentation and findings so far: We have been experimenting with enhancing worship by adding a rich visual element, using a projector and screen, visual images, pictures, text and even short video. We did this during Lent and Vacation Bible School and we have spent considerable time and effort researching the best way to bring new visual elements to our service, yet keep intact, the word, music and flow that we cherish as a valued part of our Lutheran heritage. There have been questions, we've had a dialogue, and people are embracing the idea and the implementation. However, we thought it would be good to communicate the concept in writing, and the proposed way forward…
What will be different once we add this visual element to our church?  (The physical aspects) There will be one retractable projector screen measuring 45" x 80" in the front left side of the sanctuary mounted at a height where it will be visible to all, but not "block" the view of the altar area, window cross, pulpit and so on. The screen will be visible when being used and retracts into a thin case when not in use. The projector is small and will be mounted right above the screen and on the wall, no pipes or cables hanging down from the ceiling or other distractions. (This is the same type of setup thousands of schools use for "smartboards".) Sourcing a locally recommended vendor, we have found a new, very capable but cost-effective projector that will be almost twice as bright as the one we'd experimented with (usable day or night) and has no expensive bulb to burn out. With our usage of a few hours a week, we calculate it should last us 128.2 years.
What will I experience in Worship? Think of it this way, the visual experience is "additive" to what we do today. It does not take anything away. The service, word, music, communion, having a bulletin, etc., do not change. Here are a few examples of what we may add to our worship experience:
Before the service, we could show announcements to save time and repeat the messages as people enter the church.
During a sermon, if Pastor referred to a painting of Jesus, we could see that picture on the screen.
As we are walking to the front of the church to take communion, we could continue to sing communion hymns from words displayed on the screen.
We might show a short video that reinforces the message of the day.
We may show pictures and even "home" video of church events for those who could not participate.
And the list goes on. I will continue to work with Pastor, our Church Secretary, the Church Council and anyone else who would like to guide how this evolves, and even help create or produce the visual aspects of our service, using a computer, projector, screen and carefully selected visual media. We seek your feedback and input as we explore new ways to learn and grow closer to God.
Thank you for your continued support in this effort to enrich our worship with the visual experience. Ron.
FOUR WEEK BIBLE STUDY
Starting on All Saints' Day, the day we remember the whole company of God's people, which is November 1st, Pastor Tom will be starting a new Bible study on the book of James.  We will be meeting on November 1st, 8th, 15th, and 29th over the lunch hour.  Bring your lunch to the Bible Study.  Pastor Tom ordered study guides by N.T. Wright for the James study.  N. T. Wright offers a refreshing and inspiring look at the book of James in the Bible.  Please let Pastor Tom know if you are interested.
My (Our) Gifts to Williams Bay Lutheran Church
In the Bible we are reminded that all that we have is from God. God is the source of all good gifts. As we give we remember this truth. Giving reminds us to put our trust in God and not in what we have or in what we own.
As we give a portion of what we have back to God in the form of an offering we connect our giving with our faith life. Giving is a faith practice and it can be a deeply spiritual discipline.
When we give during the worship service time we do so as an act of worship to God.
Giving supports God's ministries here on earth.
Your offering gifts supports our congregation along with the many other ministries that our church supports including ELCA World Hunger, Lutheran colleges, Lutherdale Bible Camp, San Jose Mission Church, our local food pantry, Lutheran seminaries, and the work and mission of the wider church.
Thank you for your gifts that support the mission of God here on earth.
If you choose to pledge for 2019 know that your pledge is not binding. It is between God and you. Please return this form to the church office. Thank you for your support and generosity!
My (Our) commitment to give this coming year (2019) to WBLC is:
Per Week____________      Per Month _____________
Per Year _______________
Name __________________________________________