A WORD FROM PASTOR TOM
THE GIFT OF LISTENING TO EACH OTHER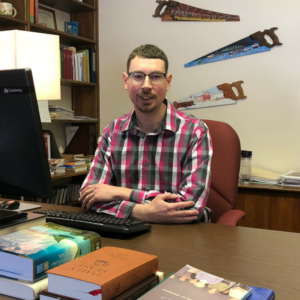 Recently, I picked up a book off the shelf in my office that I first read back in seminary. The book is called the: The Lost Art of Listening by Michael Nichols.
As I am reading through the book once again I am reminded of the importance of listening.
In the book Nichols makes the point that listening is so basic that we often take it for granted.
For example, just the other night my daughter was speaking to me about an exciting thing that happened during her school day. While she was speaking my mind was elsewhere thinking about my own day. My wife, Kalen could tell that I was not listening.
"Tom," Kalen said, "Are you listening to what Evie is telling you?" I was caught! Quickly my mind came back to the moment. "Sorry, Evie," I replied. It was true. I was not listening and I was missing an important moment with my daughter.
In the church it is also very important that we listen to each other. Often misunderstandings can occur simply because we are not listening. As Nichols points out, the reality is, that most of us think that we are far better listeners than what we really are. That includes me!
May God bless as we work to listen to each other with love. May God guide us to truly listen to each other. May the Holy Spirit speak to us in such a way that we can listen and hear what God is saying to us even now.
My dear brothers and sisters, take note of this: Everyone should be quick to listen, slow to speak and slow to become angry. James 1:19
NEW MEMBER SUNDAY
On December 2nd we will begin the new season of Advent. During Advent we await and anticipate with glad hearts the coming of Jesus. On that Sunday we will also be welcoming a large group of new members at both services. The church council will be serving coffee and desert refreshments on that day. Please come and welcome our new members!
CHRISTMAS EVE WORSHIP
This year our traditional Christmas Eve worship times will be at 5 pm and 10 pm on Monday, December 24th. Come and worship the birth of our Lord and Savior Jesus Christ.
PASSIONATE BELIEVERS
Please join Pastor Tom for conversation on becoming more passionate in our faith lives. How do we live with passion for our Lord? How do we make sense out of our beliefs? How are we to live out our faith in our day-to-day lives? Come and join in on the discussion! We meet on Sunday mornings at 11 am. All are welcome!
CHRISTMAS CANTATA UNITY SERVICE
There will be a unity service on Sunday, December 9th at 9:30 am for the Christmas Cantata worship service. There will be no 8 am worship on that Sunday.
CHRISTMAS POINSETTIAS
Order your Christmas Poinsettia plant to help decorate the church on Christmas Eve Day, and your home afterwards. We will be ordering the plants from Pesche's Greenhouse again. Order sheets can be found in the bulletin or on the narthex table.
COMMUNITY THANKSGIVING SERVICE
We joined with United Church of Christ and Chapel on the Hill for a community Thanksgiving service.  An offering of $602.50 was taken for Agape House.  A large ecumenical choir sang for the service and Rev. Sean Walker gave the message.  It was a very meaningful worship service as we all gave thanks to God for God's many blessings.
SALLY'S CIRCLE BOOK CLUB
All WBLC women are welcome to join our Sally's Circle meetings. Some of the participants knit or crochet prayer shawls or do other hand work while we talk. Our meetings are very informal and are a great way to get to know each other. We meet in the Hearth room in the lower level of the church. If you have any questions about where to get the book, please see Mary Mock or Cheral Sadler.
No December 2018 meeting
(However, read "A Redbird Christmas" by Fannie Flagg to discuss at January meeting)
January 29, 2019               "Can't Wait to Get to Heaven"
by Fannie Flagg
THANK OFFERING BOXES
Thank offering boxes can be turned in and placed in the large basket located in the narthex. Money will be sent to Synod WELCA. Collection will continue through December 9, 2018.
MITTEN TREE
Mitten Tree will be up December 2nd. Branches will be reaching out for your donations of NEW or slightly used mittens, gloves, hats and scarves. Periodically items will be given to our local schools and homeless shelter. Donations will be taken through January 20, 2019.
We are once again going to help needy families throughout the Walworth County Holiday Care Program. Each ornament has a number on it as to what family they belong to and whether it is for a boy, girl, mom or dad. On the ornament is a suggestion of what they would like and sizes. If in doubt on the size for a child I always suggest going up one size rather than have it too small, or get a gift receipt and enclose in the package. The ornament MUST BE SECURELY ATTACHED to the package. If you are giving gift cards please put in a small box or bag or much larger envelope with ornament attached to it. The gifts MUST be returned to church by December 16th as they need to be delivered to Elkhorn on Dec. 17th. If you have old large paper shopping bags with handles on please bring those to church as it's easier to transport when I can put several gifts in one large bag.Thank you for your help and thank you for your generosity!! Jorine Granberg, cell (text is fine) 262-949-7998 or email me at josiegranberg@gmail.com,
MUSIC NOTES
    from Carol Berndt

The Williams Bay Lutheran Handbell Choir was warmly welcomed by Christ Lutheran Church of Sharon on Sunday, October 21st where they performed 10 songs with narration assistance by Kyle Marshall, for their first official Handbell Concert. A time of fellowship followed the concert, which allowed us to get meet some of their parishioners. A free will offering was taken at the concert & we are happy to say that we received over $250.00 in donations. We chose the Agape House in Walworth to be the recipient of this generous free will offering.
On Tuesday evening, November 13th, our Handbell Choir was invited to play for the Norsemen of the Lakes Memorial Service held at WBLC & led by Pastor Tom. The Handbell Choir performed 3 songs for the service and there was the tolling of a bell for each member that had passed away from their Sons of Norway Lodge in the past 20 years. It was an honor to be asked to be a part of this service and appreciate their hospitality & fellowship following the service.
On Tuesday, Nov. 20th the Williams Bay Lutheran Chancel Choir joined with Chapel on the Hill & Williams Bay U.C.C. choirs in a combined choir that presented 2 Thanksgiving songs at the ecumenical Thanksgiving "Eve" service. It is always a nice opportunity and experience to join together with fellow musicians. ~ Carol Berndt, Music Director
CHRISTMAS CANTATA
On Sunday, December 9th during our 9:30 AM Unity Worship service (no 8:00 AM service on that morning) our Christmas Choir, Handbell Choir, Sunday School children & Confirmation students will present "Emmanuel—God With Us!" by Lloyd Larson, featuring songs such as Michael W. Smith's "Christmastime", Amy Grant's "Breath of Heaven" , the popular song "Mary, Did You Know" & finishing with a traditional Christmas Carol medley. Come and enjoy this intergenerational experience.
CHRISTMAS CAROLING
On Sunday, December 9th following our Unity Service with our Cantata presentation, those wishing to visit our shut-ins and sing Christmas carols will be gathering for sub sandwiches. After our light lunch we plan to go caroling to:
Williams Bay's Atrium, Walworth's Golden Years, Elkhorn's Lakeland, & Lake Geneva's Arbor Village Care facilities.
Please join us to visit & carol to as many of these facilities as you can that early afternoon. The residents really enjoy the visits (especially from the children.)
THANK YOU WBLC HANDBELL CHOIR
Thank you to the Handbell choir for gracing us here at Christ Lutheran with a beautiful concert.  The music was wonderful, and it was meaningful to be together.  Thank you also for providing refreshments.  What a treat!  Many people have shared how much they enjoyed the afternoon. May God bless your ministry of music as you continue to share your gift with others.
-Christ Lutheran Church
LENTEN SOUP SUPPER
Lenten Soup Suppers will resume on March 13th. Come and break bread with your church family before our midweek Lenten services. Two to three types of soups, bread and a sweet desert are served up from 5:30 pm to 6:30 pm. Sign-up will begin after January 1st.
WELCA OUTING
WELCA Outing is being planned for March 3 (3:00 pm) at UW Whitewater Young Auditorium. Young Auditorium will present Church Basement Ladies – Rise Up O Men. Last time our group went we had loads of fun and rolled with laughter. Please consider joining us and bring your spouse with you! This edition of SBL is about the men in the church. The musical looks through the eyes of the church men as they take part in the town's Centennial Celebration. If you are interested, please sign up on the sheet in the narthex before December 25th.
CROPWALK TOTALS
WBLC had 10 walkers participate in the year's CROPWALK, raising $405. An anonymous donor matched these donations for a WBLC total of $810. In all, over $10,000 was raised. A final total will be coming soon.
HEIFER SUNDAY RECAP
Sunday, November 5th was our annual children's sermon focusing on the work of Heifer International. Our Sunday School and VBS offerings are donated to Heifer International for their use in ending world hunger and teaching sustainable farming. For about the 10th year running, we had a visit from our own Heifer to help with the children's sermon. Their children chose the following animals to donate: 2 pigs, 1 set of honeybees, 1 flock of ducks, 3 flocks of chicks, 1 goat, 1 llama, 1 sheep, and a share of a heifer. To donate or learn more about the program, visit www.heifer.org.
ANNUAL MEETING
The annual meeting will be on January 27th after the 9:30 a.m. service. The annual committee reports must be turned in to the church secretary by January 10th. Following the meeting join us for the potluck.