A Word from Pastor Tom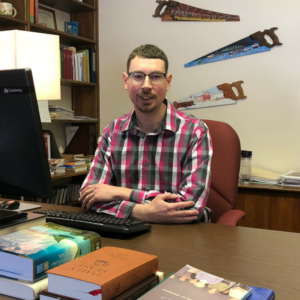 The month of August will mark two years that we have been together in our ministry with and for Jesus.  I had a seminary professor who once said that the first two years of a new pastorate in a church can be challenging as both the pastor and the congregation figure out how to do ministry together.
We made it through the first two years!  I am thankful for your grace, love, and patience as we figured out how to do ministry in our new life together.
You may have noticed that the name of this newsletter has changed to:  Life Together.  I felt that this was a good, new name for our newsletter.  In our life together in Christ we work and share life together in order to make Christ known here in this place and in this community.
Thank you for sharing your life with me these past two years!  Let us now look to the future and to the ways in which God will bless the ministry that we do together in Christ's name.  I am looking forward in seeing how the Holy Spirit will move in year three of our life together.  Come and see!
MUSIC OPPORTUNITIES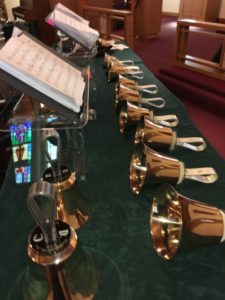 Get prepared for some new worship music & worship experiences coming this upcoming church music season.  We have already begun adding some more contemporary songs to our services as well as adding some visual experiences to our worship services as well.
Our Chancel Choir will be returning to add their special messages generally on the first two Sundays of the month.  We welcome "older" youth thru adult to come & join us.  Our first rehearsal will be on Wednesday, Sept. 5th at 7:00 PM in the sanctuary.
Our Handbell Choir will be sharing their instrumental music generally on the 3rd Sunday of the month.  We still have openings for 3-4 more ringers. (You do not need to know how to read music, just know your left from your right hand & be able to count to about 4.  The music is color-coded for you.)  Our first rehearsal will be on Wednesday, Sept. 12 at 7:00 PM in the sanctuary.  We hope to reschedule the postponed concerts from late spring to the end of October or beginning of November.  Please watch for further details regarding the specifics in our next newsletter or on our website.
We will be presenting the Christmas Cantata, "Emmanuel, God with Us", which will feature our Sunday School Children, Handbell Choir, & special Christmas Choir.  The tentative date for that presentation will be at 9:30 AM during our worship service on Sunday, December 9, 2018.
With the introduction of "newer" songs to our worship services, we are looking for those interested in reading song introductions, persons who would like to play an instrument to accompany the new songs, such as guitar, bass, drums, flute or something else that would enhance the songs as well as those who might wish to assist as vocal song leaders.
If you have any questions, please contact Carol Berndt, Music Director choirdirector@wblc.org.
SALLY'S CIRCLE BOOK CLUB

All WBLC women are welcome to join our Sally's Circle meetings. Some of the participants knit or crochet prayer shawls or do other hand work while we talk. Our meetings are very informal and are a great way to get to know each other. We meet in the Hearth room in the lower level of the church. If you have any questions about where to get the book, please see Mary Mock or Cheral Sadler. Our next meeting is on September 25, 2018   "My Grandmother Asked Me to Tell You She's Sorry" by Fredrik Backman
GOD'S WORK. OUR HANDS SUNDAY.
On Sunday, September 9, our church will be participating again in a meal packing event at Lutherdale Bible Camp.  This project benefits our local food pantry along with area food pantries.  Please let Pastor Tom or Jim Pfeil know if you are interested.  We will meet at Lutherdale from 1:00 to 4:00 pm.  All are welcome to join in on this mission work! 
SUNDAY SCHOOL

Sunday School begins on September 9 during the worship service. All children ages 4 through 6th grade are welcome. If you are interested in teaching Sunday School or have any questions, please contact Kari Pfeil at 262-607-6166.

VBS WAS A HUGE SUCCESS!
A huge thanks to all who helped to make this year's Vacation Bible School a success!  Thirty-five kids attended VBS this past week!  The week of VBS ended up being a wonderful outreach ministry to the children in our community.  Praise God!
NEW MEMBER SUNDAY
Pastor Tom would like to formally invite our new members to Williams Bay Lutheran.  If you are interested in joining the church please let him know.  He is planning a "New Member Sunday" for the fall.
BLESSING OF THE BACK-PACKS
On Sunday, September 9th Pastor Tom will offer a special blessing and prayer for all of our Sunday school children as they begin a new year of school.  He will also have a special gift for each child.  Children, please bring your school back-packs on that day.
DISCIPLESHIP CLASS
This fall there will be a class on discipleship.  We will read the book:  Real Faith for Real Life: Living the Six Marks of Discipleship by Michael Foss.  During the class we will talk about what it means to live as disciples of Christ.  We will meet on Sunday mornings from 11:00 – 11:45 beginning September 16th.  All are welcome to join in on the discipleship conversation.
FALL BIBLE STUDY
Pastor Tom is considering teaching a "Lunch Bible Study" this fall on Thursdays from 12:00 – 1:00.  We will meet at church with a sack lunch or maybe even, from time to time, a nearby restaurant.  If you are interested please let him know.
BISHOP INSTALLATION SERVICE
All are invited to attend the bishop installation service of Viviane Thomas-Breitfeld at First Lutheran Church (612 North Randall Ave.) in Janesville on Saturday, August 18th at 2:00 pm by Presiding Bishop Elizabeth Eaton.  Our church was asked to provide four dozen ham and turkey sandwiches for the celebration.  Pastor Tom is planning on attending and Evie will be singing in the community children's choir during the installation service.  Please let him know if you are interested or have questions.
ELCA WORLD HUNGER
Our church supports a variety of ministries.  One ministry that our church supports is ELCA World Hunger.  This world-wide Lutheran ministry supports communities impacted by hunger and poverty.  If you would like to donate to this life-giving ministry simply mark:  ELCA World Hunger on your giving envelope
OUTDOOR WORSHIP
This summer our outdoor worship service will be on Sunday, August 26th at Dr. Wayne and Susan Anderson's home (7230 S&D Townline Rd. in rural Delavan).  We will have a unity service on that day at 9:30 am.   There will be a potluck after worship.  Dr. Wayne Anderson will be grilling and all are invited to bring a salad or desert.  Please also bring your own lawn chairs. Come, invite a friend, and enjoy worshiping God in the beauty of nature! There will be no 8 am worship on that Sunday.